Last week MonoBoy went for testing at Sylvan Learning Center. They confirmed that he missed a few building blocks.
Of course, I'm still blaming the mono. I know, I know, I blame everything on the mono. Honestly, I'm pretty sure that mono is to blame for global warming and conflicts in the Middle East. It's just a theory.
The Ex disagrees. He believes that MonBoy's school problems lie solely within his x-box. Oh, how I wish The Ex had been with me at Sylvan to review the results of their tests. Results that, although not unexpected based on his grades, were devastating to see and hear.
I might have spent some time breathing into my old trusty paper bag.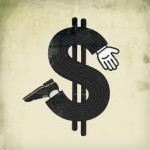 And that was even BEFORE they hit me with the price of the classes it would take to fix it. I think I blacked out when they hit me with THAT.
So you're only asking for an arm and a leg? Not my first-born child? Well that's a relief.  Where do I sign in blood?

The Ex was not surprised about the price. He could have told me that! I mean, he thought it was ridiculous that I took him there to be tested in the first place. Come on, they just want my money, so obviously they were going to find something wrong.
I. Hate. Him.
So while I was still reeling from the news that my child is struggling, I got the joy of listening to his criticism about my parenting.  From the poster child of HOW NOT TO PARENT.  Yes, it was a very bad day.  I possibly whined about it to anyone that would listen.  Or even paused to glance in my direction.
After enduring my slobbering and complaining about the cost, a friend mentioned the name of a retired teacher that now employs local certified teachers to tutor in the evening. Then she might have dialed the phone for me.  That part is a bit fuzzy.
I talked to the tutor about the services that she could offer.  She spoke highly of Sylvan, but said that she takes a different approach to filling in the gaps.
Both options assured me that they could get him caught up and build up his confidence.  Sylvan explained that they have a specific curriculum that the follow, which aims at starting where the gaps in his learning seem to have occurred.  They do not address his homework, unless specifically requested, but they assure me that he will catch up.  It makes sense to add those building blocks back in so his entire educational career doesn't fall like a tower of Jenga.
The tutor has more of a tutorial approach, for lack of a better word.  He brings his homework and any work from the prior week or weeks that he is struggling with and they help him with those concepts. This way he is successful in school and rebuilds his confidence.  As the struggling decreases, they will add in vocabulary and other concepts to prepare for the SAT/ACT.
I have NO IDEA which theory is best to subscribe to.  I can see the benefits of both approaches.  However, we decided on Option B and the decision was based solely on price.  I wasn't kidding when I said that Sylvan wanted an arm and a leg.  For 4 hours each week, it was literally going to cost as much as two car notes each month.  I could practically rent a house for the price.  (Seriously, I'm in the wrong profession.)
Not that the money wouldn't be well spent.  And if Option B doesn't work, I might end up taking him back there. I'll just stock up on canned goods and toilet paper to prepare for the Great Depression that will occur at my house.
I don't think I need to worry about it if this first week with the tutor is any indication.  MonoBoy LOVES the tutors.  He is scheduled to go to the tutors for two hours each week, and drop in other days if extra work is needed.  One day is devoted to Algebra and the other day is devoted to all classes that require reading comprehension, but he can mix it up for test days and big projects.
Monday night was Algebra and she said that he did so well that they got to spend time working problems for reinforcement.  I was a tad bit more worried about the other session, but last night when he stepped back into the waiting room, he was grinning from ear to ear.  He even thanked the tutor and said, "That was fun!"  MONOBOY THOUGHT HIS HISTORY HOMEWORK WAS FUN!  Mark this day on your calendar.  It should be a new national holiday.
Oh, be still my formerly-aching heart.  There is hope for us yet.  After months of turmoil, I see a light at the end of the tunnel.
And it's not even going to cost me an arm and a leg.