My plan yesterday was to blog about some Mama Bear basketball drama with my other cub.  Boy, did that train sure derail.
But last night I said good-bye to the Debbie Downer I was yesterday and had a great evening with my boys, so we're back on track.
The older son's soccer game was cancelled and WHEW because the thought of him traveling two hours by bus in the rain was about to send my OCD into overdrive.  (You see, several years ago a bus carrying the girls high school soccer team overturned, killing two girls and injuring many others.  I still hold my breath when I drive by the location where it happened en route to the city.)
He decided to get a jump-start on a project, so we had to get supplies.  (By jump-start, I mean that it is due on Friday and we aren't waiting until Thursday night.  Sure, it was assigned before the Christmas Break, but come on.  Even I didn't want to think about school over the break.)
When we pulled into the driveway, my other cub, aka Mono Boy, was shooting hoops in the driveway.  My heart swelled with pride.
And here's where I tell you about the drama.
As I have whined about in earlier posts, Mono Boy had STUPID FREAKING MONO for about five months.  It was awful.  The boy who loved spending time with friends and playing sports spent time in a dark room alone sleeping.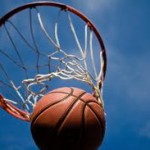 With the start of this school year, not only did he return to school, he returned to sports.  Oh happy days.  He decided to, once again, play basketball for his Junior High and the season started right after Thanksgiving.
He's in accelerated classes and I will admit that he's struggled a bit this year from absences.  He attends tutorials to stay caught up and remain on the AB Honor Roll.  I say all of this because at the first week of practice, the coach pulled him aside and told him that he was the ONLY returning starter from the prior year.  All other starting players FAILED. Yep, you read that right.  ALL PRIOR YEAR STARTING PLAYERS EXCEPT ONE FAILED.
In fact, there were only three kids from the prior year squad that were eligible to play.  After the first loss with a score of 59-16, even one of THOSE kids quit the team. The team was then made up of my son plus one backup from the prior year, and a bunch of kids new to the team.  Like I think they went classroom to classroom looking for tall kids with at least a C-average. "Do you recognize this ball?  If so, you're in."
The season has been UGH-LY!!!
My son, however, has kept his head up.  He took his assigned role seriously and plays aggressively.  He would do anything for his coach.  This is his second year to play basketball for this particular coach and he trusts and respects him.  There is another coach, but he has been absent for the season so far.  Mono Boy mentioned that he's at school, but always absent on game days.  The kids (and some parents) mentioned that it was because he didn't want to be associated with a losing team.  Perhaps, I thought, but let's not jump to any conclusions.
Monday was the first day back from the holidays and progress reports are due to come out this week.  Many of the kids are now eligible and returning to the team, so they showed up for practice.  And guess who else showed up for practice?  The other coach.  Hmmmm…
That's not the worst part.  There was some sort of decision made and this coach will now head the 8th Grade team instead of the other coach.  Okay, not that bad.
He benched my son and the other players that have been working their butt off and set the starting lineup with all of the former failures, I mean players.  To add insult to injury, since those players haven't been able to practice, they pretty much dedicated that first practice to them, so my son and the other players SAT AND WATCHED them practice.  And finally, the coach told my son that he was in a slump and needed to work on his shots.
Middle School Coach with an ego trip, say what?
My cub was in tears and my inner Mama Bear was growling.  I couldn't contain her.  I wrote an email.  Then I re-wrote the email.  Then I sent it to my friend to proofread.  Then I finally sent it.
The email was returned.  His inbox is full.
You don't say?  Shocker.
Listen, I know that it's a sport, not a popularity contest.  Positions on teams are earned.  The goal is to WIN games.  Trust me, I'm competitive.  I get it.  You think I liked sitting in the stands while the other team crushed us?  Nope nope nope.  BUT to put pressure on a child to lead his team, and then bench him as if his efforts were not appreciated?  Come a little closer so that I can smack you.  Or rip your head off with my claws.
Of course, I didn't share my opinion with my son.  (I saved that for the email.)  I told him that life isn't fair.  There are bad teachers, bad coaches, and bad bosses.  At some point in time, he will have to deal with all of them.  He has to suck it up and go along with it.  Work on his shots.  Prove to this coach (that has been mysteriously absent) that he deserves that spot.  Listen to what the coach says when he does get to practice because although we might not agree with his coaching philosophies, he might have some nuggets of information on technique.
So I was very proud when I drove into the driveway yesterday and saw him practicing his shots.  He's striving to earn his spot back with dignity.
Mama Bear can hibernate for a little while.  At least until the Thursday night game.