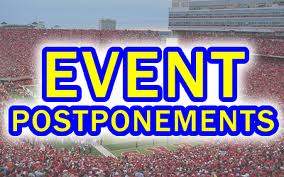 December seems to be the month of postponements for me.  I know that I'm known for procrastination, but really, this is ridiculous.
I might have mentioned in another post that this Christmas will be the first Christmas in four years that The Ex will have the children.  At least, that's what the temporary orders say.  There has been no mention of it recently, so we are unsure of the plan.  If you go by the legal document, the boys will be with him from 12-8pm on Christmas Eve and 8am-6pm Christmas Day.  If you go by past history, they will be with me.  But to err on the side of conservatism, the boys and I have planned to postpone Christmas until the morning of December 26th.
Yesterday, I was scheduled for Sinus Surgery and it's no secret that I was a bit nervous about it.  I did some research online about having surgery with bronchitis, and it turns out that the real risk lies with the breathing tube that the anesthesiologist inserts.  Breathing tube?  Was that mentioned before?  Needless to say, despite the fact that I was scheduled to be at the hospital at 6am, I was still wide awake at 2am dreaming up all of the new possibilities for worst-case scenarios.  Thanks Google!
I reported to the hospital at the butt-crack of dawn and got my IV, which is no small feat since my veins roll.  (You should see the bruises on my arm.  If I get pulled over, I might go to jail for meth use because I look like an addict.)  I asked the nurses about my cough, but similar to the nurses that I called and talked to at my doctor's office a couple of times last week, no one had any reason to believe there was cause for concern.  Oh yeah?  Tell that to Google.  Then I waited for my consultation with my anesthesiologist and doctor.
Suddenly, my curtain opened and a gentleman with scrubs from my Anesthesiologist group said, "Is that you coughing?"  Ummmm…yes.  He grabbed my chart and began to review it.  He said that he wasn't the anesthesiologist assigned to me, but he was going to call my doctor because there was no way that they could risk the breathing tube.  You see?  Obviously, he uses Google.
And that was it.  Well, after another hour of waiting, that was it.  My surgery was officially postponed until NEXT Tuesday pending the disappearance of the acute hacking cough.
There is something I learned through this whole process.  Surgeons don't prescribe meds for coughs.  When I called his office last week, I was referred to my family doctor, which I don't have thanks to my rockin' PPO Insurance.  So I hit my local Urgent Care Center (or Doc-in-a-Box as I lovingly call them) for meds.  I got to visit them again yesterday for breathing treatment medicine.
And this is where I almost died.  You see, I forgot that I had received a steroid shot at the hospital.  Let's blame the lack of sleep and all of the emotion tied up in almost having surgery and dying.  The Doc-in-the-Box gave me another steroid shot and then sent me on my way with my prescriptions.  Later, I administered my first breathing treatment.  About that time I realized that the breathing treatment has, guess what, STEROIDS in it.  Perhaps it was the trembling hands or the racing heart that gave it away.
Sure I escaped near-death by postponing the surgery, but clearly, I was meant for doom yesterday.
The good news is that I'm still alive.  Even better news is that I can breathe through my nose better than I have in months.  The bad news is that I still have a cough.  And I didn't get much sleep.  The really strong prescription cough medicine was no match for the overdose of steroids.
If you are worried that this new surgery date will interfere with my scheduled court date on December 17th, never fear.  It's the month of postponements, remember?  I checked in with my attorney last week after I received a letter from the Attorney General requesting permission to release my records.  I asked about the outcome of the hearing for The Ex's attorney's Motion for Withdrawal and the status of our case.  Apparently, opposing counsel had a family emergency and was unable to attend, so therefore, at this time, my ex has an attorney, but he probably won't do any work for him because he hasn't been paid.
It turns out that part of the reason that my attorney hasn't filed for mediation, which is required before we can set a final hearing is because she is waiting for his attorney to officially withdraw AND she is waiting for the Attorney General to approve all of those medical expenses that I submitted.  At this rate, I guess it should happen some time in 2014.  Although I met with an OAG representative and went over every bit of information with her, it seems that there is still confusion.  Shocker.
So just like everything else in December, it is postponed.  I'm not gonna hold my breath for January either.  Shoot, I'm not going to hold my breath for anything because it is so glorious to be able to actually BREATHE!!!!