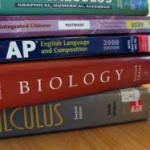 Homework has become a family affair at my house.  My oldest son is less than amused.  "What the heck, Mom?  This isn't even my homework.  I finished my work at school."  Yeah, well, misery loves company.  When Mama's not happy, no one is happy.  Life isn't fair.  And all sorts of other clichés that justify forcing you to help your brother.

So here we are, congregated on my bed with an assortment of paperwork surrounding us.  When my oldest son gets distracted by Twitter and ignores MonoBoy's questions, I politely kick him.  It's all in the name of love.  My love of kicking.
I occasionally help with an algebra equation, but my focus right now is on preparing spreadsheets mapping out their high school careers.  You see, course selections are due this week.  Otherwise known as the-week-that-makes-me-obsess-and-look-at-four-potential-years-of-disaster.  Not that I'm overreacting or anything.  I wouldn't do that.
When the boys were first enrolled in Junior High in the 6th grade, course selections were carefree.  What elective would you like to take?  Electives are fun!  Then when my oldest son enrolled in the 8th grade, and I realized that there were opportunities to take courses that counted as high school credits, and *POOF* gone were the days when they could decide to take Shop for fun.   Sorry boys, but this house in no way resembles a democracy when it comes to course selections.  I hold all of the power.  You can choose between Art and Theater for your Fine Arts credit, but that's as much input as I need from you.
A spreadsheet of all four years might be overkill, but it just seems like common sense to me since certain courses have prerequisites and that just screams out for a plan.  You can't just pick Advanced Placement Statistics all willy-nilly.  There are rules.  (As if either of my children would actually choose to take Statistics, but let a mother dream for a moment.  That dream will die soon enough along with all of my dreams of being able to afford fabulous family vacations before they graduate.)
I learned last year that the Junior High counselor is a definite roadblock in the path to fulfilling my course selection dreams.  (I should have known this when she enrolled MonoBoy in Shop and Spanish I AGAIN.  We never checked those boxes, and why would we?  He had already taken them. But since the rest of his schedule was correct and he was going to receive high school credits for the other stuff, I let it go.  Pick your battles. Especially when they provide two courses without homework.)
Back to the counselor nonsense.  First of all, they send you home with only a one-page Course Selection sheet with only a limited number of offered courses listed.  There is also no mention on the Course Selection sheet about the different Graduation Plans or credit requirements.  It's just a carefully designed sheet pointing you in the direction that they want you to go.  If you want the full Course Selection Book (oh, and I do), you must go to the school and sign for one.  They only have 200 copies even though they have 300 students that will be attending high school next year.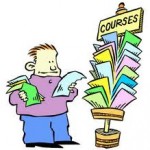 Anyway, I sent my oldest son to school with a spreadsheet and a dream.  He would take Drivers Ed as an elective and save me time and energy.  It was all going to be so wonderful and easy.  I had a backup plan, though, just in case.  If Drivers Ed was full, he would sign up for Art 1 to get the Fine Arts credit out of the way.
He came home with a new plan and my dream of an easier life was crushed.  He said that the counselor told him that he wasn't allowed to select Drivers Ed for his elective because they reserve that for Juniors and Seniors.  "Oh, and it's the same thing for Art 1, so she signed me up for AVID."
At first, I argued with him because the Course Selection Book, which I read cover to cover, clearly states that those courses are available to Freshman. I've done my homework.  He just looked at me with that look that says, "Why is my mother so stupid?"  (Trust me, I know this look.  I see it EVERY day.)
I sighed and grabbed the handy-dandy Course Selection Book to research the effect of this elective change on his next four years of school.  I had a plan, remember?  I found that AVID stands for Advancement Via Individual Determination.  The Book says that enrollment is limited to students already enrolled in Advanced Placement classes AND it helps them with their academic career through tutorials, SAT prep, and college admissions guidance.  SCORE!  This might have been the best course derailment ever!
Oh, to be so naive again.  I was new to the process and I had not yet learned how to read between the lines of the Course Selection Book.  It turns out that this course is more of a study hour, or an hour for my son to visit with friends or tutor the kids that are in NO WAY enrolled in Advanced Placement classes.  Occasionally, the teacher will toss some SAT vocabulary words at them, but that's only to get a few grades on the books.
My son loves this class.  It's like an extended lunch hour but with entertainment.  Every day he comes home with stories about kids in the class.  It's usually about their discipline problems or what homework he had to help them with. I'm not amused.
But as I sit here listening to the homework instruction going on at the other end of the bed, I'm thinking it might be a good idea for MonoBoy to have a class dedicated to finishing homework.  Then we could incorporate something fun into our evening routine.
Well, I have to go change my spreadsheet! Again.