It's my new philosophy that if you are going to be cranky, make sure it extends over several days.  Get the most out of it.  Grrrr….
This morning I was seething.  I'm amazed at how people choose to use a funeral as a photo-op.
And by "people," we all know that I mean The Ex.  He's tagged all weekend in more than a few group pictures of all of our classmates gathered to mourn the loss of our friend.  Then today, he took some of those people to my house (while I was at work) to see the boys, and of course, there was a photo taken in my driveway.
Will he be around later when it's time to take MonoBoy to the tutor to study for his Algebra test?  Of course not.  He has no car. But boy, doesn't he look good in pictures?
Unfortunately, that's not the only thing causing my shoulders to hover just below my ears in their stress pose while I type this.  There are other things.  Less petty things.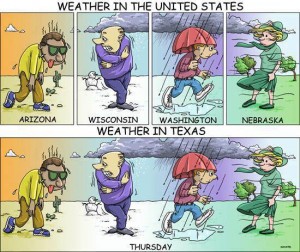 First of all, the weather is all over the place.  Rain…no rain…freezing weather…hot humid weather…beautiful sunny weather.  I can't keep up.  It's not all that unusual for Southeast Texas, but when you are still (apparently) recovering from sinus surgery, it's more than troublesome than usual.  My sinus cavities keep filling up with blood clot nastiness.  I know, I'm sorry, TMI.  I haven't learned the art of filtering on the internet.
Let's just say that my nose is annoying me.  (Why couldn't I have just said that first and stop right there?)
Finally, there's MY CAR.  You know, the one that I just bought in the Fall because The Tank was falling apart and spending more time in the shop than in my driveway?  Well, so is the new one.
Everything was fine, but then it needed an oil change like most cars do.  They also changed the oil filter, but didn't change the o-rings, so I got an oil leak.  I was definitely breathing into a paper bag over that one.  I mean, that's the EXACT reason that I traded in The Tank.  Luckily (ha), I did some research online and found out that with this type of car (I want to say, the lemon kind), you must replace the o-rings when you replace the oil filter, or a minor oil leak occurs.  Since the fix on this one was easy, so I laughed it off as a maintenance issue, not a repair.  (Telling myself that helped me stop rocking back and forth.)
Then two of the tires seemed very worn and it seemed to shake a little bit because of it.  Tires wear out, right?  That's no big deal.  Besides, I've put more than a few miles on it with all of the soccer trips and such.  So two new tires and let's throw in a front-end alignment because my OCD detected that the steering wheel seemed to be a little bit off-center.  (Do you have any idea what that does to someone with OCD?  Well, you don't want to know.)
The new tires and alignment eliminated the shaking, but the steering wheel still seems off.  I convinced myself that it's just my neurosis.  It's all in my head.  It's not like I can draw a straight line.
NOW however, there is a new noise.  Or two new noises.  The first and most annoying is that the car groans when I start moving or turn left.  This weekend I tried to take routes that would ensure all right turns to avoid the urge to drive it off of a cliff.  (If I could only find a cliff in Southeast Texas.  We are actually below sea level here.)  I found that those alternate routes eat up a lot more gas and time.  And ain't nobody got time for that!
 In the midst of all of my right turns, I noticed another squeaking noise on the left side.  Like bed springs.  So I'm literally driving around in a car that sounds like bed springs squeaking, followed by a groan.  It's Sex on Wheels.   Only way less fun, and definitely no euphoric calming feeling afterward.  Quite the opposite actually.
I took it to the shop again.  It needs the oil changed and an inspection anyway, so I figured it was a good day to kill all of those birds with one stone.
Oops, I missed.  See what I mean about a straight line?
First, I rode around with the mechanic to point out the noise.  We never heard the bed springs, even though EVERYONE in my car heard it last night.  The mechanic said that it was probably because it was cold last night and most sounds are louder when it's cold.  Then I pointed out the groan and he said, "Hmmm, I'm not sure what that is.  I never would have heard it."  Yeah, well obviously, it was worse last night.
I also mentioned the steering wheel, to which he replied, "It seems pretty straight to me."  Then you drive it, Paw Paw.  Until then, can I please talk to a mechanic under the age of 80 that can hear noises and fix my car?
He just called me a little bit ago to tell me that the car was ready.  He said that the oil and oil filter were changed and it was inspected.  Any luck fixing the noise?
"No, I have no idea what that is.  It seems more annoying than problematic."  You know what else is gonna be more annoying than problematic?  My foot up your butt.  Mister, you are messing with me on a cranky day.
I tried to call to talk to the owner because I have always had my vehicles repaired there, and considering the fact that I drove The Tank almost 200,000 miles, they should appreciate my business.  They always SAY that they do.  Of course, the owner is out of the office until tomorrow, which explains why no one else there seems to care.  When the cat's away, the mice will really freaking annoy me.
So let's recap.  I got an expensive and time-consuming divorce to be rid of my husband, but he keeps showing up, if not in person then in pictures.  I took the time and paid the money to have sinus surgery to fix my nose problems, but instead I've just replaced my old problems with new, bloody problems.  And I traded in a car for a new model, thereby trading repair costs for monthly finance costs.  Only now I have both.
Yep, that just about sums it up.  Anyone want any help with anything?  Some problem or annoyance?  I'm sure that I could make it worse.  Much worse.