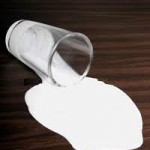 We all know that whoever coined the phrase "Don't cry over spilled milk" never pumped breast milk. That stuff is liquid gold. I'm also thinking that they never had teenage boys. Gross, dirty, unkempt boys that live in rooms that rival the best of the pigsty.
Today not only did I want to cry over spilled milk, but I wanted to run away from those little pigsty keepers. Far, far away.
My week has been hectic with the added tutoring schedule and extra hours at work for the concert. By Friday I was beyond exhaustion, and I was looking forward to the weekend.
Then I sabotaged it. Earlier this week when I was getting a haircut, my stylist said those words I always dread hearing. "So what is up with your ex?" Really, if I had the answer to that, I would probably be awarded the Noble Peace Prize for my extensive research on brain activity (or lack thereof). She said that he had not one, but TWO hot checks outstanding at her salon. I laughed. "Join the crowd."
Our County website has this great little program that allows you to search a name and all of the person's public records at the County. I love it. It has shown me things like when the Constable served him with eviction paperwork, when the girl sued him for the car accident he was in without insurance, when his ex-girlfriend (the cheating slut) filed a protective order against him, and all of the hot checks that have been turned in. Over the past few years, I have kept tabs on that information to avoid allowing the kids to ride in his truck when he has a warrant out for his arrest. Call me over-protective.
In mid-January, when he showed up at my house to ask for money, I suggested that he take care of the most recent bounced check before an arrest warrant was issued. He didn't know that the hot check was turned in. Apparently, he doesn't share my love of perusing the County's online public records.
So anyway, on Friday, I made two big errors. Yep, you guessed it. Mistake #1: I perused the County's website. I couldn't help it. The information from the hair stylist about the hot checks was needling at me. When the search results appeared, sure enough, there was the info about that check I had told him about in January. I opened the document, fully expecting to see that restitution had been paid. (You see, I CAN be an optimist.)
Wrong. What I saw was the issuance of an arrest warrant dated back in November (I guess they forgot to scan that document). Then I saw a document called a Surety Bond. You know what that is? I didn't either, but it appears to be the paperwork signed by The Ex and a Bail Bondsman after his ARREST for the hot check on January 26th. The arrest was made by a DPS officer, so I'm guessing that he was pulled over for some sort of traffic violation and BAM, instant arrest.
ARE YOU KIDDING ME?
To make matters worse, the date of his arrest was the day that I let the boys go to his apartment to watch the movie that they bought him for his birthday. I felt ill as reality hit me. I let the boys ride in a car with a man who had a warrant out for his arrest. I just got lucky that he was arrested AFTER he dropped them off.
Since I was already feeling terrible, I went ahead and made Mistake #2. Probably in an attempt to get as much information as possible for my upcoming pity party. I once again used the internet and checked the school's online system that allows parents to monitor their kids grades. Lo and behold, MonoBoy has two missing assignments in Algebra. Correct me if I'm wrong, but didn't we just start tutoring for Algebra on Monday? Didn't she work with him on his homework. He can't possibly think that he's exempt from homework on the other days of the week, can he?
I swear to you that hormones don't just cloud a teenage boys judgment. They take over their brain. What's that new scary movie about the aliens taking kids and turning them into someone else? Yeah, people, that crap is real. It's called PUBERTY, not an alien invasion.
So Friday was rough, but it was still the weekend. I was holding onto hope.
This morning we got up at the crack of dawn and hit the road for my oldest son's high school soccer game in the big city. No sleeping in. That will have to wait until summer. I've been dragging MonoBoy with me each week because waking him up early is a great form of punishment. This morning, however, I didn't have the fight in me. And I didn't want to up the ante on the potential for road rage. I was still a bit miffed.
Don't worry, even though I wasn't bringing MonoBoy along, I wasn't travelling alone. I brought a giant grudge with me. And my mom.
The Ex hasn't made an appearance at these games. Last week he attempted it, but halfway there he realized that he forgot his phone, so he turned around and went home. (Perhaps it's perfectly normal for a man to value a phone above his children. Or perhaps he's just wanting to spend as much time with his phone as possible before its turned off for good.)
This week he must have had too much fun at our local Mardi Gras festivities, so he was once again a no-show at the game. You probably think that's just speculation on my part based on the story I told in my earlier post. No, my mom saw him on the news. Yep, out of all of the floats in the parade and all of the people in the floats, the news puts HIM on the news tossing beads out to the crowd.
Shoot. Me. Now.
I'm carrying the load of his kids, his former house, and his former dog, and he's living it up while people scream "Throw me some beads, Mister" like the crazy lady in the Zatarain's commercial.
It's okay, though, I love watching soccer. It's less stressful when he's not there, so it's really a good thing. Except that we lost 5-0 and I might have watched it through my fingers like I watch scary movies.
When we got home, a gaggle of boys were playing basketball in my driveway, and I made it just in time to see MonoBoy trying to make a shot from the roof. Hey, Alien child, get off of my roof before you break your neck!
I was in the house a short time when my Spidey-senses tingled, telling me that they started playing tennis instead of basketball. Well, it was my Spidey-senses and the tennis ball that crashed through my front window into my dining room. But mostly my Spidey-senses.
Boys scattered in all directions when my head spun around and pea soup started flying out of my mouth.
I don't usually get that bent out of shape about broken windows. I mean, I am conditioned to the sound of breaking glass. I have boys. About once a year I contact the glass company to replace one window pane or another. Last year, that same window was shattered by a flying golf club. Yes, you read that correctly. It was a golf CLUB, not a golf BALL. Do you see what I mean about missing brains? Alien child, why did the golf club leave your hand? You do know that's not how golf is played, right?
I think I was upset because it happened while I was busy throwing away empty water bottles and granola bar wrappers and pop tart wrappers from the grazing, I mean snacking that had occurred while I was gone. I was still dealing with the wreckage of the Picnic Tornado when the Tennis Ball Tornado struck, and essentially struck a nerve.
I swept up the glass and cut up a box to patch the hole and then went in search of duct tape. My house eats duct tape like a dryer eats socks. I kid you not. I buy more duct tape than an electrician. I don't know why.
Yes, I do know why. Teenage boys. They love duct tape. They use it for everything – makeshift bandaids, bat grips, folder repairs, etc. And then they leave it everywhere – back patio, garage floor, under the bed, the bottom of their closet, their pajama drawer, etc. So during my search for the ever-elusive duct tape, I found yet another picnic area in the garage, complete with MORE pop tart wrappers and spilled milk all over the floor and the golf clubs that I bought that haven't been used. Unless you count the last window mishap, which I do not.
So yes, yes I cried over spilled milk and it wasn't even breast milk.