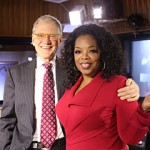 I recently watched Oprah Winfrey's interview of David Letterman.  I've never been a big fan of Letterman because I didn't like the way that he made fun of his guests.  It made me uncomfortable even in the safety of my living room.
Well, many things have happened to me since I was young and naive.  I'm old and jaded now and I have more of an appreciation for the man.  Plus, he looks like my dad.  With his sarcastic tone and family resemblance, I would swear that we are somehow related.
What really drew me into the interview was the fact that she was going to ask him about his affairs.  Oh how the jaded love to see a cheater in the hot seat!
I'm not going to lie.  I was so impressed by Dave's responses that I might have t-shirts printed with "Dave for President" on them.  Did you see the interview?  Can I get an "AMEN" here?
He owned his mistakes.  He is not letting himself off the hook.  He is seeing a counselor and working every day, in big ways and small, as he describes it, to earn back the trust of his wife.  He is apologetic and remorseful and, most importantly, dedicated to atonement.  He wants to be the good person that he thought that he was.
Sure, there is always that voice in my head that says, "Well, he never should have done it," but how can you argue with someone who is working hard to understand why he behaved that way?  Someone that is living in the true knowledge of pain of their actions?
I never got that.  In fact, I might have KILLED for that level of apologetic behavior.  It's safe to say that if I had, I would still be married.
My ex felt justified in his affair.  It was my fault because we didn't have sex enough.  He felt justified in staying out all night in bars.  It was my fault because I didn't clean the house and decorate enough.  He felt justified in hitting me.  It was my fault because I was confrontational.
I thought that there was remorse and atonement when I discovered the gambling in January 2000.  He said that he was "so relieved" that I knew and that he didn't have to live a lie anymore.  He promised to spend every day of the rest of his life making it up to me.  He would see a counselor.  He was going to get a second job to help dig us out of the financial mess and whatever measures I had to take to protect us financially, he would live with them.  I mean, he said ALL of the right things to a woman with two babies that had never experienced trauma and wanted to rewind and pretend it never happened.
It did, though.  His promises?  Those did not so much happen.
He did quit gambling.  He did allow me to restrict all of his access to cash…for a short time.  He did deal with my grief and continue to apologize…for a short time.  He never once applied for a second job.  He never once attempted to come up with a solution to the mess.  I was left to figure out how to get the repo'd car back and pay the credit card bills and the bank loans and buy the groceries.
We attended ONE counseling session together.  The therapist told us that she needed to see us separately.  She worried that I was suffering from Post-Traumatic Stress and he had traits of an addictive personality that he needed to deal with.  (Clearly the understatement of the DECADE.)  I've gone back to that same therapist off and on for years.  He scheduled one appointment that he never attended.
Those few months in 2000 were the only that I saw remorse from him.  That was the only time that he ever seemed to understand the effect of his actions and the pain that he had caused.  I remember seeing pain in his eyes those few months.  And yet, it wasn't enough to propel him to do the right thing. He wasn't ready to accept that he had an "addictive personality."
I know that year was a shift for me.  I never saw the world the same again.  Not only was there the possibility of pain, but it could come at the hands of the person that you trusted with your life.  I never felt safe again.
I wonder now if that year was also a shift for him.  He couldn't handle the blame.  He couldn't handle the shift I felt.  He started to blame me.  By taking away his access to cash, I was suddenly emasculating him.  By feeling pain, I was crucifying him.  By having my guard up, I was shunning him.
If you ask him what happened to our marriage, he will tell you that I never got over the gambling that year.  And therefore, every awful thing he did in the eight years after that was justified.
So I say, Bravo, David Letterman!  I stand behind my theory that we are human and we all make mistakes, but it's not those mistakes that define us.  It's what we do to make up for them.