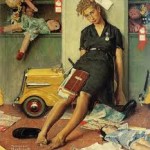 I don't mind admitting to you that after Christmas, I struggled with a little bit of depression.  I have a ton of reasons for it.
I had surgery, and therefore, was restricted from certain activities.  I think I'm smarter than doctors and tried to do things, but my nose reminded me that my career is in numbers.  Follow the doctors orders or feel the wrath of pain.
I was taking medication from the surgery that made me sleep a lot.  Or if I was awake, I wasn't really aware of it.
I couldn't breathe through my nose.  I felt like crap and wanted to do nothing, which was lucky for me because in accordance with #1, I was pretty much only allowed to do nothing.
I felt some Christmas let-down.  Not that I was disappointed in Christmas, but once the excitement was over and the high went away, there was a bit of a low.
Christmas was weird with the kids going to their dad's.  That hasn't happened since 2008.
Things about The Ex came to light and it opened some wounds.
Since no one really wants to hear about my blocked sinus passages, I will expand more on #6.
A friend of mine is a nurse and mentioned that she recently cared for the father of my ex's current girlfriend.  She didn't realize it until my ex called her for advice on care when the father left the hospital.  This is no big deal, right?
I wish. For me, it was a stab to the heart.  Because WHO IS THIS GUY?????
I know that the past MANY years have been pretty bad, but there are a few years that stand out in my mind, like 2004-2005.  In 2004, we sold our house to pay off the last of the gambling debt and moved in with my mother.  Living there wasn't bad, but the humiliation of the reason sucked.  It was also the year that my parents divorced after 40 years of marriage, and I was the self-appointed CPA on the case, so essentially, I divorced my father.  At the end of 2004, we had a joyous moment with the birth of my nephew, but it was quickly masked when my sister was whisked away for a biopsy and diagnosed with cancer.  She begin treatments right after the new year.
All of these awful things were a mere preview of some of the worst few months of my life in 2005.
It started in March.  On Tuesday, my sister went to MD Andersen for chemotherapy.  It was becoming a routine by this time.  She would drop the baby off early in the morning and Mom and I would tag team taking care of him until she felt better on Friday or Saturday.  But our routine was disrupted in March.
On Wednesday, I went home for lunch to check on things because my mom had complained of a headache the night before.  The maid was at the house, but instead of cleaning, she was taking care of my nephew.  She didn't really speak English, but she clearly said the words "mom" and "hospital."  I took one look at my mother and knew that she was right.  So there I went to the hospital with mom and baby in tow.  When we got there, she was asked a series of questions that she was unable to answer.  She just looked at me.  Nurses were hovering around her and acting with extreme haste.  They kept asking how she had arrived and were surprised when I said that she had walked into the emergency room.  She was physically declining and my anxieties were steadily rising.  They discovered that her pulse-ox was only 72 and there was some concern that she was having a heart attack.
After a few hours (and several calls to coordinate rides for my children from school), the doctors finally decided that she was being admitted to the hospital with pneumonia.  There was a mixture of relief and fear.  My mother was sick.  My mother was staying at the hospital.  It's just pneumonia, but something isn't right.
I called my husband to tell him.  I started to break down.  He interrupted and excitedly said, "Hang on, Babe, it's my pick!"  I stood there on the sidewalk of the hospital next to an ambulance with a baby on my hip in stunned silence.  The woman who helped raise our children while we worked was ill, but it was insignificant compared to his Fantasy Baseball Draft Pick.  I hung up the phone.  I was on my own.
The next day our youngest son had a scheduled tonsillectomy.  As I sat with him in recovery, I recruited friends to check on my mom at the hospital.  My husband never volunteered.  In fact, he had to leave to get to work, and he left the next day for a "business trip" at the beach.  (Which I now know to be code for "meeting his girlfriend.")  I was left to care for my mother, my nephew, our son, and every other aspect of our life alone.
But now he is helping HER. Ouch.
And more than that, he is replacing his children with her children.  On Saturday, our oldest son had his first soccer scrimmages for the high school freshman soccer team.  He was beyond excited and proud, as was I.  My mother and I drove to the big city to see the games and sat in the rain cheering.  My mother with her lung disease that faces pneumonia annually.  Yet there was no sign of his dad.  Later that night, our youngest son met some friends at the Indoor Soccer fields to play around.  It turned out that HER son was there.  At the end of the night, The Ex showed up at the facility to pick up her son.  Not his.  I pulled up behind HER car and The Ex was sitting in the passenger seat, hollering out the window at our son to see how his brother's soccer games went.
On the way home, my son opened up that he felt "abandoned."  Gulp.  He said that he felt like his dad was doing all of these things to impress her and that meant doing stuff for her kids and forgetting about them.  As you can imagine, I fantasized about putting a bar of soap into an old sock and beating my ex with it.
He went on to say that he thinks that his dad moved in with the girlfriend because they never went to his townhouse those two days of Christmas.  And my son's x-box was in the girlfriend's bedroom.  Hello, OCD.  I can't say that I missed you, but I can tell that you are settling in for a few days.
Needless to say, I haven't quite been the same since this conversation on Saturday.  I may, or may not have casually driven by his townhouse to discover that their basketball goal was missing and a mysterious silver truck was in the driveway where he normal parks his black truck.  His lawn chairs were no longer on the front porch.  I might have then perused the County website to see if there were any warrants or eviction papers served, and discovered that there was another filing for a Misdemeanor B:  Theft by Check.
None of this should matter to me.  He is no longer my problem.  These things no longer directly affect me.
Oh, but they indirectly affect me because they directly affect my kids.  It explains why he didn't ask to spend more time with them on Christmas.  He was spending Christmas with his new family and he didn't want the kids to know that he lost another residence.  It explains why he is giving up the legal fight for more time with his kids.  (Well that and the failure to pay his attorney.)  It reminds me that loaning him money to "feed our kids"  on Christmas was just a ploy.  His girlfriend and his aunt fed them, so I'm sure that they money went to something for his new family.  Or a hot check.  It reminds me that he is narcissistic and is doing what he needs to do, just as my son described, to secure a place with this new woman, even if it means leaving behind his own flesh and blood.
More than that, though, it hurts.  My kids hurt and that's a heartbreak for me, even though it's not my heart being stomped on.  I realize, though, that I am still traveling along the path of grief and recovery, stopping to visit the Garden of Sadness and dipping into the Well of Anger.  Sure, I had surgery and meds and holiday blues to accompany me and nudge me a bit over the holidays,  but the true nature of my Christmas let-down is this ongoing grief.  I haven't quite conquered it, but I'm working on it.